Chile is a country with a population of approximately 17 millions of inhabitants, located at the southwest of South America. Its territory is spread lengthwise in an area of 4,329 kilometers with an average width of 180 kilometers. Our neighbors are Peru by the north, Bolivia and Argentina by the east, the South Pole through the Antarctic by the south, and by the west the Pacific Ocean. For administrative purposes, the country is divided in 15 regions, which include the islands on the Pacific Ocean, as Easter Island, Salas y Gómez, Juan Fernández Archipelago, and the Saint Ambrosio and Saint Félix islands. Thus, Chile has presence in three continents: America, Oceania, and Antarctic.
In most of its territory, Chile has different types of climates that include Atacama Desert by the north, the driest zone of the world, and southern regions with an annual average precipitation of 5 thousand millimeters. The north is rich in mineral resources; agricultural activity is centered at the Central Valley; and in the south, the main economical activities are forestry and livestock farming. Fishing and aquaculture are developed throughout the cost, specifically in the south, where all the 5 thousand islands of the great archipelagos provide ideal environments for these purposes.
Along the north and central Chilean coasts, there are beautiful beaches perfect for water sports. Tourism is also well-developed in southern lakes and Patagonia.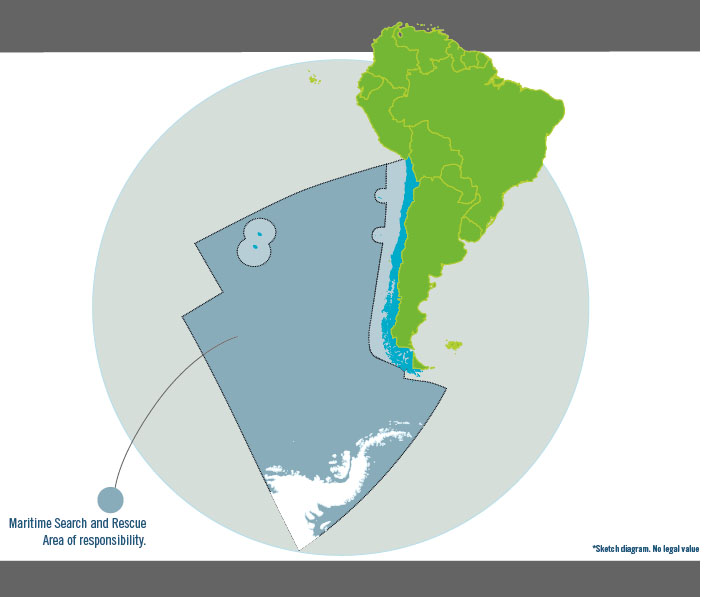 Chilean Exclusive Economic Zone (EEZ) is comprised by 5 million square kilometers; it is more than six times its continental territory, without considering the Chilean antarctic territory. If the territorial waters are taken into account, then the national maritime area raises to almost 18 million square kilometers.
It must be concluded that, as more than the 80% of the Chilean foreign trade is made by sea, our country has an essentially maritime nature which is no limited by its coasts. Therefore, it requires an efficient and modern Navy, endowed with all the means needed to fulfill the obligations related to the Nation's interests inside its vast expanse of ocean.
The maritime zone corresponds to the area of the Pacific Ocean in which Chile projects its maritime interests, its rights and responsibilities; among them, the environment protection and the preservation of the maritime resources in accordance with the law of the sea. It has a direct impact on the biomass of this zone and on the development of the country, since different organisms share their natural habitat as part of their cycle of life in both the territorial waters and the Exclusive Economic Zone.
Inasmuch the areas where Chile, in accordance to international agreements, has made commitments in terms of maritime search and rescue, the zone in which the Navy is the responsible authority at the Pacific Ocean expands to 26 million of square kilometers, in other words, 1.5 times the size of South America.