Missile Craft Teniente Uribe (3rd)
Año:

1972

Desplazamiento:

265 tons.

Potencia de Maquinaria

12,840 HP.
Armamento:
1 40/70 mm. assembly.
1 76/62 mm. assembly.
4 MM-38. missiles.
2 .50 machine guns.
Velocidad Máxima

36 knots.

Eslora:

47 meters.

Manga:
Puntal:

3.9 meters

Calado:

2.1 meters

Comandante

Lieutenant Commander Jaime Sepúlveda Rodríguez
Nombres anteriores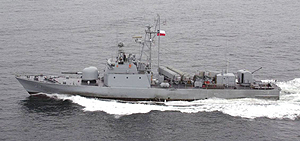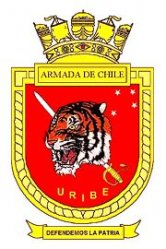 This cutter was previously called P 6041 Tiger, and was built for the German Navy at the Cherbourg Yardships in France. It was the first 148-type cutter of her class.
It was commissioned on October 30, 1972, and served in the German Navy for 26 years.
This ship belonged to the 3rd Squadron of Fast Launches with base in Flensburg. This Squadron participated in the World War II and had to protect General Rommel's maritime flank in Africa. Later, it participated in a defensive line located in Northern Europe in case of an amphibious operation from the Warsaw Pact troops.
When the Cold War was over, and without existing a real threaten to the NATO, Germany decided to sell half of their Fast Launch squadrons.
On September 22, 1998, the Chilean Flag was raised at the Wilhelmshaven Naval Base, in a ceremony presided over by the Chilean Ambassador to Germany Ricardo Hormazábal, and with the attendance of the Chief of Naval Services, Vice-Admiral Onofre Torres Colvin; the Chief of Naval Equipment of the German Navy, Rear Admiral Reinhold Siebert; and other German authorities.
This launch was sent to Chile on board M/N Clipper Cheyenne, received in Talcahuano on November 24, 1998 to go through a standardization process at ASMAR Talcahuano Yardships.
Last Modification: 09/01/2009