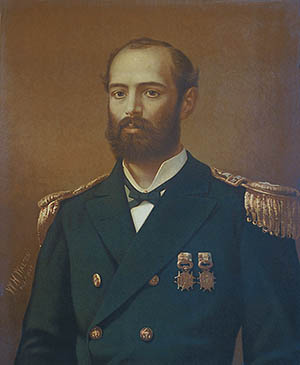 "Lads, the battle will be unfair, but, cheer and have courage. Never has our flag been hauled down before the enemy and I hope this will not be the occasion for it to happen. From my part, I assure you that as long as I live, this flag will blow in its place, and if I die, my officers will know how to fulfill their duties."
Historical legacy of Arturo Prat
The origins of the Chilean Navy dates back to 1818 approximately, the same year in which our country began its life as an independent nation. The first impulse for the development of the naval Chilean power came from the Liberator General Bernardo O'Higgins, who in 1817, at the end of Battle of Chacabuco, declared: "This battle and a hundred more are insignificant if we do not dominate the sea." Consequently, measures were taken for that purpose in 1818, when the First National Squadron, the Academy for young Midshipmen (predecessor of the present Navy Academy), the Marine Corps, and the first Office for Logistics were created, laying the foundations of the organic structure of the Navy.
Through the first National Squadron, Chile consolidated the emancipating process lengthrough the national territory, while supporting the Freedom Expedition of Peru to end with the Spanish domination over American countries. Since then, our history has been filled with honorable men that have contributed from the ranks to the raising of Chile, even by giving their lives when needed.
The Captain Arturo Prat stands out as the highest naval hero for being an example of courage and heroism that resounded among the world at the Iquique Naval Combat, May the 21st 1879, during the War of the Pacific, in which he fought to the dead side by side with his crew instead of surrendering., Despite the disadvantages of his forces, Prat fought with the fragile "Esmeralda" under his command against the superior Peruvian ship. He and his crew fought until they sank in the bay of Iquique with the Chilean Ensign fluttering at the top of the mast.
The example he and his crew gave Chilean military and naval forces the courage and the perseverance that led Chile to the victory four years later. Besides his solid performance in combat, Prat managed to leave a model of integral personality in every aspect of life, becoming a mandatory leader for all men and women who are part of the Institution.