Lunes 26 de mayo de 2014
The Navy's most valuable asset: its people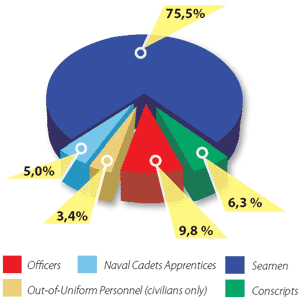 The most important asset of the Chilean Navy are the 21,773 men and women, of which approximately 91% are professionals who work throughout the maritime territory. All of them have solid principals and values and possess a strong vocation to serve their country. . These strong principals are not only apparent in their every day work activities but also form part of their family lives. This strong vocation to serve their country is inherited from a long list of naval heroes  of which Commander Arturo Prat  is the most prominent. Commander Arturo Prat  became a national hero after losing his life in 1879 as a result of his exemplary heroic performance at the Battle of Iquique during the war of the Pacific against Peru and Bolivia (1879-1884).
Admission of women into the Initial Training Schools
In accordance with the commitment to integrate women into the Navy, the institution plans to incorporate in the initial stages,  female personnel to the areas of Coastguard and Supplies.

A Vocation for the Service to the Country
Being a Navy serviceman is in essence a vocational profession that demands a high level off responsibility. This challenging career requires skills and knowledge which is developed from an early stage with ongoing  education and training.
In addition to the career serviceman the Chilean Navy has developed a Reserve Corp called  "Compañía Reserva Naval Yates" which is a Company made up of civilian officers who contribute to the Navy on a voluntary basis with their professional skills, knowledge and experience while at the same time promoting awareness of the institution to the civilian community.