Lunes 26 de mayo de 2014
Technical and Scientific Support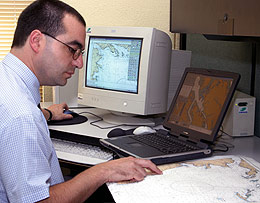 The Navy's Hydrographic and Oceanographic Service (SHOA) is constantly developing new nautical cartography that enables safe navigation in Chilean waters. The Institution develops charts in electronic format that are increasingly accurate,  making them more compatible with the modern navigation systems used by the ships currently in service.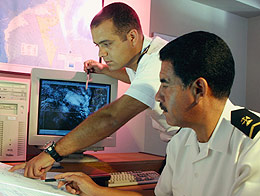 The support provided by the Navy's Meteorological Service encompasses a whole range of maritime activities. It issues daily forecasts and weather warnings in Spanish and English, and provides meteorological charts in accordance with international commitments on meteorological observation in the South-East Pacific.
The Navy's Maritime Instruction and Training Centre (CIMAR) in compliance with international standards, delivers training courses for crews of merchant and fishing vessels. Chile is a signatory of the International Convention on Standards of Training, Certification and Watch-keeping for Fishing Vessel Personnel, enabling it to grant internationally recognized certificates.
With regards to scientific research, the Navy encompasses activities that have a major maritime impact at an international level, such as monitoring the El Niño phenomenon, which has a great impact on weather and maritime conditions. In this context, the SHOA presides over the National Oceanographic Commission. The latter collects and coordinates the diverse scientific activities pertaining to Chile's oceanographic research centers and universities.
One of the principal missions fulfilled by the Chilean Navy via the General Directorate of the Maritime Territory and Merchant Marine is to ensure safety of sea, river and lake navigation. To meet this objective it has established a signaling system made up of beacons, buoys and lighthouses, allowing navigators to identify their location, track routes and detect dangers. These objectives are complemented with warning and emergency reports issued by the SHOA to the ships and sailors.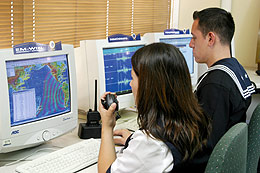 Through the Navy's Hydrographic and Oceanographic Service (SHOA), Chile is part of the Pacific Tsunami Warning Centre (PTWC) based in Hawaii. The PTWC brings together 24 nations and important organizations working in this field. The SHOA is responsible for Chile's National Tsunami Alarm System (SNAM) which was launched in 1969. Using sophisticated equipment, SHOA can detect the formation of a tsunami and provide details on its scale and estimated time of arrival to the civilian agencies responsible for warning the population.