Lunes 26 de mayo de 2014
Greatest Hero of the Chilean Navy
His address to the crew of the "Esmeralda" before the Iquique Naval Battle has been preserved in Chilean history: "Fellow combatants, the odds are against us. Our colors have never been lowered to the enemy, and I trust this will not be the occasion to do so. For as long as I live, that flag will fly high in its place and if I die, my officers will know how to fulfill their duty".
The figure of Commander Arturo Prat and his heroic act truly represents the commitment and loyalty that all Chilean Navy members have for their institution and country. On May 21st1879 during the "War of the Pacific" against Peru and Bolivia, Arturo Prat had been entrusted with the task of blockading the port of Iquique. As Commanding Officer of a fragile wooden ship the corvette "Esmeralda", together with the small schooner "Covadonga", faced two Peruvian ironclads, the monitor "Huascar and the "Independencia". Despite his inferior force, Commander Prat decided not to withdraw but to confront the Huascar sacrificing his life in battle together with more than one hundred members of his crew, deciding to fight to the very end while refusing to lower the ships colors in surrender.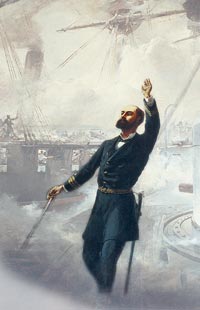 Commander Prat became legendary when after hours of fighting; the Huascar rammed the almost motionless corvette "Esmeralda". Precisely at that moment, Prat boarded the Peruvian monitor while calling on his men to follow. He was only heard and followed by Sergeant Juan de Dios Aldea. The rest of his men could only watch helplessly as the Huascar backed away with Commander Prat falling on the enemy deck under a volley of rifle fire. After two more rammings from the Huascar, the Esmeralda sank with her colors being the last to disappear.
Arturo Prat and the daring sacrifice of his crew made a profound impression on the Chilean public opinion at that time and awakened a patriotic enthusiasm that prompted thousands of youngsters to volunteer for the war..
Besides his gallant behavior in battle, Prat is remembered as an honorable and complete officer, endowed with solid moral values and who together with his wife Carmela Carvajal and their three children formed an exemplary family. Prat studied law while simultaneously performing his duties as an officer. He was the first Chilean naval officer to get a university degree.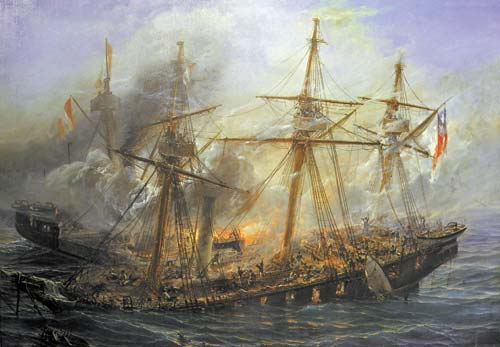 Battle of Iquique "Thomas Somerscales"