Commodore Carlos Huber Vio
Director of Recovery of Units of the Chilean Navy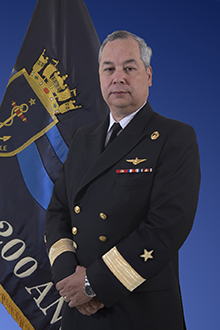 Commodore Huber was born in Valparaiso on September 23, 1964. After completing his studies at SSCC School in Viña del Mar, he joined the "Arturo Prat" Naval Academy and he graduated as Midshipman on January 01, 1987.
He is a Specialist in Naval Aviation and Staff. He has the professional degree of Engineer in Weapons with a specialty in Naval Aviation. He also has a Masters in Naval and Maritime Sciences awarded at the Naval War College.
Throughout his years of service, he worked aboard the Training Ship "Esmeralda", the Oil Tanker "Montt", the Dental Services Ship "Cirujano Videla", the Frigate "Condell", the Destroyer "Cochrane" and the Command in Chief of the Fleet.
In Naval Aviation he has served within the General Purposes VC-1, The General Purposes Helicopter Squadron HU-1 and the Attack Helicopter Squadron HA-1.
While he has been inland, he has worked in different roles such as Liaison Officer at the Fourth Fleet of the US Navy, Deputy Director of the "Arturo Prat" Naval Academy, Chief of Staff of the First and Second Naval Zone and Deputy Director of the Directorate General of the Maritime Territory and Merchant Marine (DIRECTEMAR).
He was Commander of the PSG "Sibbald", the BMS "Merino" and the AO "Araucano".
On December 18, 2017, he was appointed Director of Recovery of Units of the Chilean Navy.
On December 29, 2017, he is awarded the rank of Commodore.