Rear Admiral Carlos Fiedler Pinto
Commander in Chief of the Fifth Naval Zone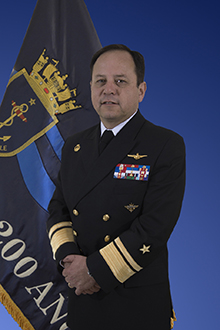 Over the years, he has served in the following naval units: the cutter Sargento Aldea, the training ship Esmeralda, the Fleet of HS-1 Antisubmarine Helicopters, the Second Aeronaval Force, the Fleet of HA-1 Attack Helicopters, the frigate Almirante Lynch, and the oiler Araucano.Commodore Carlos Fiedler was born in Viña del Mar on February 27, 1964. After completing high school at Colegio Alemán of Valparaíso, he entered the Arturo Prat Naval Academy, graduating as a midshipman in December 1985.
He has commanded the following units: the barge Elicura, the ocean patroller Policarpo Toro, the training ship Esmeralda, and the Fleet of HA-1 Attack Helicopters.
Among his posts on land, he has served as dean of studies at the Naval War College; in the Navy's Programming, Investigation and Development Directorate; in the Chief Command of the Fourth Naval Zone; in the Naval Aviation Command; and in the General Chief of Staff of the Navy.
Commodore Fiedler is a specialist in naval aviation and chief of staff. He is a weapons engineer with a specialty in naval aviation and has a master's degree in naval and maritime sciences from the Naval War College. In addition, he has a diploma in Higher Defense Studies from the War Academy of France and a master's in social and political sciences from the University of Paris II.
Since December 12, 2016, he has been Commander in Chief of the Fifth Naval Zone, and was sworn in as commodore on January 1, 2017.