Rear Admiral Juan Andrés De La Maza Larraín
Secretary General of the Navy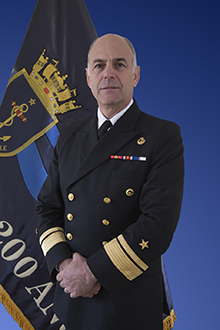 He holds the professional title of Weapons Engineer with a Specialization in Artillery and Missiles, a certificate in Senior Management and a Master's Degree in Naval and Maritime Sciences.Rear Admiral Juan Andrés De La Maza was born in Santiago on February 10th, 1964. After studying at the "La Salle" School in Temuco he joined the Naval Academy graduating as midshipman on January 1st, 1986.
He also successfully completed the Staff Course from the Naval War College in Chile and Argentina. He is also a Military Professor in Logistics.
During his career at sea, he completed tours aboard the Auxiliary Oiler "Almirante Montt"; Training Ship "Esmeralda"; Frigates "Condell" and "Baquedano", and Missile Boats Covadonga, Riquelme and Orella, and Destroyer "Blanco Encalada".
He commanded the following units: Patrol vessel "Quidora"; Auxiliary Tug "Galvarino"; Transport "Aquiles" and the Training Ship "Esmeralda".
During his shore tours of duty, he served in the Naval Academy as instructor, as Aide-de-Camp of the Commander in Chief of the Navy; Deputy Chief of the Chilean Naval Mission in London; Naval Attaché at the Chilean Embassy in the United Kingdom and Director of the Naval Polytechnic Academy.
On December 5, 2016, he became the Director of Ship Maintenance and Material Management of the Navy.
On January 1, 2017, the Chilean Government granted him the promotion to Rear Admiral.
On December 4, 2017 he assumes as Secretary General of the Navy.