Rear Admiral A Mario Montejo Orellana
Director of Safety and Maritime Operations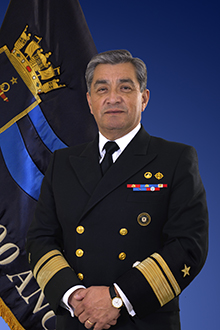 Rear Admiral Montejo was born in Viña del Mar on October 28, 1961. After completing his formal education in Viña del Mar and Valparaiso he attended the Arturo Prat Naval Academy and later graduated as Littoral Midshipman on December, 1983.
He is a specialist in Littoral, Engineering in Maritime Management and he has a Master´s Degree in Organization Management from Universidad Adolfo Ibañez, a diploma in Senior Management from the Naval War College, a diploma in Political and Strategic Studies from the Academy of Political and Strategic Studies. He also took a course in Command and Control of Crises in the United States Coastguard Training Center and a course in Legal Regulations and Regulation of Military Operations for Maritime Officers also in the US.
During his professional career he has served in different Port Authorities, Maritime Authorities, in the Maritime Territory and Merchant Marine General Command and in the Safety and Maritime Operations Command. He was also Harbormaster in Lago Ranco, Puerto Chacabuco, Lago Villarrica, Punta Arenas and Puerto Montt; Maritime Governor in Chiloé and Puerto Mont. He was also Commander of the Arturo Prat Naval Base in Antarctica.
He has served aboard different units, he was Commander of the LPC 1812 Lascar, LPC 1812 Osorno and LSG 1604 Hallef. Throughout his career he's been in positions of command for over 20 years in which he has led important groups of people that work hard to provide an excellent maritime public service.
In addition he has been Inspector of Navigation and Maneuvers of the National Maritime Authorities. As a consultant of the International Maritime Organization, he participated in projects to support Colombia and other countries such as Honduras, Nicaragua, Panama and El Salvador.
During the years 2011, 2012 and 2013 he was the Head of the Department of Management assessment of the General Direction of Maritime Territory and Merchant Marine. In 2014 and 2015 he was the Assistant Director of the Security and Maritime Operations Directorate.
On December, 2015, he became Director of the Security and Maritime Operations Directorate.
On January 01, 2016, the Supreme Government granted him the promotion to Rear Admiral.
He is married to Anita Olave and they have two children: Monserrat and Alonso.