Rear Admiral Juan Carlos Pons Jara
Naval Aviation Commander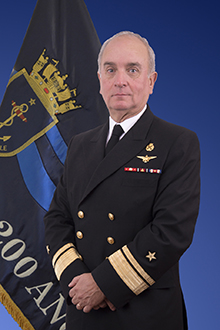 Rear Admiral Pons was born in Los Ángeles, Chile on September 23, 1962. After studying at Liceo Aleman del Verbo Divino in Los Ángeles, Chile he attended the Arturo Prat Naval School and he graduated as midshipman on January 01, 1984.
He is a specialist in General Staff and Naval Aviation. He has a Master's Degree in Naval and Maritime Sciences. He also graduated from the 'Command and General Staff' course at the Naval War College in Peru in 2003.
He has been on board of the Training Ship Esmeralda, Boat Orompello, Oil Tanker Guardian Brito and Destroyer Cochrane in the Fleet. In Naval Aviation he has served in the Anti-submarine Squadron HS-1, General Purpose Helicopter Squadron HU-1, Attack Helicopters Squadron HA-1, with a flying experience of over 3000 hours. He was a flight instructor for helicopters such as Bell 206, BO - 105 and Cougar AS-332. He was the first Chief of the helicopter detachment assigned to the Fourth Naval Zone in Iquique in 1991 and 1992 and he was the Commander of the Attack Helicopters Squadron in 2007 and 2008.
On land, he was a guest professor at the Naval War College in Peru in 2004, Head of Studies at the Chilean Naval War College in 2005, Naval and Defense Attaché at the Chilean Embassy in Peru in 2009 and 2010, Naval Commander and Maritime Governor in Arica from 2011 to 2013. Later he was Chief of the Foreign Affairs Office of the General Staff of the Navy in 2014.
On December 2014, he became Commander of Naval Aviation and on December 30, 2014, he became Commodore.
On January 01, 2016, the Chilean Government granted him the promotion to Rear Admiral.