Rear Admiral Cristian Araya Escobar
Auditor General of the Navy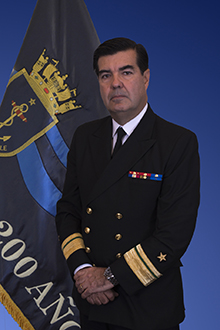 Rear Admiral Araya was born on November 30, 1962 he took the Officers Service Course in 1987 and he graduated as Lieutenant (Judge Advocate).
In 1986, he graduated as Bachelor in Legal and Social Sciences in Pontificia Universidad Católica de Valparaíso, he was granted the title of lawyer by the Supreme Court of Justice later that same year. In 1997, he took a course in Law and Armed Conflicts in the Red Cross International Committee and in 1998 he took the Information course of the Staff.
He was a Deputy Auditor of the Military Public Ministry as part of the Naval Personnel Command from 1987 to 1991 and then he became Secretary Advisor of the Audit of the Naval Chief Command until 1998, as part of the Naval General Secretariat.
Later he was the secretary of the General Audit of the Navy and Chief of the Legal Subcommittee of the Committee of Directors of Personnel in 1999 as part of the Naval General Audit.
In 2000, he returned to the General Naval Personnel Command and a year later he returned to the Naval General Secretariat as an Auditor of the Chief Command.
In 2007, he became the Auditor of the Chief Command of the First Naval Zone and Auditor of the Fleet until November 30, 2010 when he became an auditor of the General Naval Personnel Command and Acting Minister of the Martial Court.
On December 4, 2013, he became the Naval General Auditor and Minister at the Martial Court of the navy.
On January 1, 2014, he was promoted to Rear Admiral Judge Advocate.