Enrique Merino Mackenzie
Rear Admiral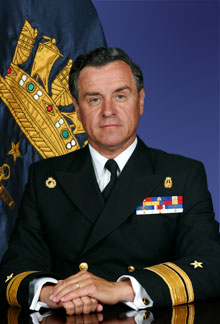 1956
Rear Admiral Enrique Merino was born in Viña del Mar, Chile, on 8th July 1956. After studying at the Sacre Coeur School (SSCC Alameda) in Santiago, he entered the Naval Academy "Arturo Prat" and was commissioned an Ensign on 1st January 1977.
He is a Staff and Weapons Electronic Engineer officer. He holds the professional degree of Weapons Electronic Naval Engineer and a Bachelor's in Naval and Maritime Sciences with a major in Electronic Systems.
Throughout his more than 13 years of service on board, he has filled duties in PFG "Almirante Condell", Destroyers DD "Almirante Riveros", DLH "Almirante Latorre" and DLH "Almirante Cochrane". His seagoing command posts are as Commanding Officer Patrol Craft "Contramaestre Micalvi", based in Puerto Williams in 1995, LST "Rancagua" assigned for Amphibious Command and Naval Shipping in 1999 and DLH "Cochrane", flag ship of the National Fleet in 2004.
Amongst his shore duties we can highlight his performance as Electronic Advisor to the Naval Mission to Chile in London, Chief of the Upgrading Project for the Command and Control Systems of the Fleet units, Commander of the Beagle Naval District, Chief of Strategic Planning Navy General Staff and Naval Attaché to the Chilean Embassy in Spain.
On 1st January 2001 the Supreme Government promoted him to Captain.
On 22nd December 2004 he took over as Head, Navy Training Center.
On 11th December 2006, he took office as Director, Naval Systems Engineering.
On 1st January 2007 the Supreme Government promoted him to Rear Admiral.
On 18th December 2007,he took office as Deputy Chief of Naval Staff.
On 17 december 2008 he took office as Commander in Chief Chilean Fleet
He is married to Mercedes Lara and they have 5 children: Tomas, Martin, Enrique, Federico and Beatriz.