Año:

1973

Desplazamiento:

2,380 tons

Potencia de Maquinaria

6,400 HP
Armamento:
Velocidad Máxima

14 knots

Eslora:

58.3 meters.

Manga:
Puntal:
Calado:

3.9 meters.

Comandante

Commander Gonzalo Peñaranda Moren
Nombres anteriores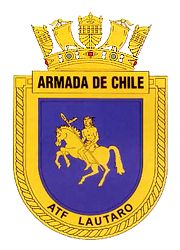 This is a Veritas-Class ship, built in Norwegian Yardships, identical to R.A.M. Janequeo and Galvarino.
According to Resolution C.J.A. (Res.) N 4520/C-1227 Vrs. passed on December 19, 1990, this ship is added to the Chilean Navy from December 21, 1990.
Last Modification: 27/01/2009