Federico Niemann Figari
Vice Admiral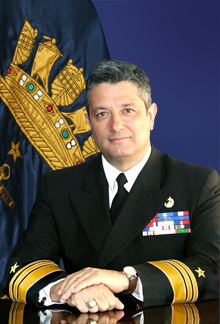 1957
Vice Admiral NIEMANN was born in Valparaíso on 6th October 1957. After studying at the Deutsche Schule in Viña del Mar, Concepción and Valparaiso, he entered the "Arturo Prat" Naval Academy and was commissioned an Ensign in January 1977. While attending to the mentioned Academy, as Midshipman, he was invited to join the US Naval Academy in Annapolis, graduating with a Bachelor's degree in Systems Engineering in 1980.
He is a Staff Officer and Electronics Engineer. He holds the professional degree in Weapons Electronic Naval Engineering and an MBA from the US Salve Regina University. He is also a Military Professor in Naval Operations.
In 1989 he graduated from the "Principal Warfare Officer" (IPWO) course conducted in the Maritime Operations School, HMS Dryad, Portsmouth England, and in 1997 he joined the Naval Command College, class of 1998, US Naval War College. From 1998 through 1999 he served as Research Officer, Strategic Studies Department at the US Naval War College, Newport, Rhode Island.
Throughout his more than 12 years of sea service, he has filled different positions on board destroyers DLH "PRAT", "COCHRANE" and "LATORRE" and as Operations Officer Northern Strike Craft Command. He has held command at sea on three different ocassions, starting with Missile Strike Craft LM "COVADONGA" in 1994, Frigate PFG "ALMIRANTE CONDELL" in 2000 and Destroyer DLH "BLANCO ENCALADA" in 2002.
Amongst his shore duties, we highlight his performance as Appraisal Officer at the Tactical Training Center; Head of Project, Directorate of Programs, Research and Development; Professor and Head of the Warfare Games Department at the Naval War College; Head of Planning, Policy and Doctrine Department, Navy General Staff and Director of Strategic Planning at the National Defense Staff.
On 14th December 2007 he took over as Deputy Chief General Staff of the Navy and in January 2007 the Supreme Government promoted him to Rear Admiral.
On 20th December 2007 he took office as Fleet Commander in Chief.
On 17th December 2008 he reassumed duties as Deputy Chief General Staff of the Navy and on 10th June 2009, he assumed duties as Chief of the General Staff of the Navy.
On Janury 1st, 2010, the Suprme Government promoted him to Vice Admiral.
He is married to the former Marcela Peralta and they have four children: Marcela, Francisca, Pamela and Federico.