Jorge Claudio Chandía Cuitiño
Rear Admiral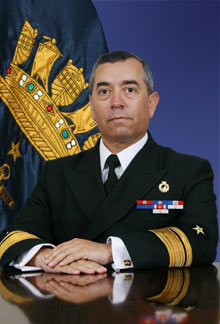 1957
Rear Admiral Jorge Chandia was born in Chillán, Chile, on 10th September 1957. After studying at the Seminario Alberto Hurtado School in Chillán, he entered the Naval Academy in 1975 and was commissioned an Ensign on 1st January 1978. He is a Staff Officer and Naval Electronic Weapons Engineer.
For his more than 16 years of seagoing appointments, he has served on board Oiler Araucano as Gunnery Officer; DLH Captain Prat as Electronic Officer; in LM Casma as Electronic Officer; Fire Control Officer and Operations Officer in the HQ Fleet Commander in Chief; Electronic Assistant and member of the Fleet Training Command; DLH Almirante Cochrane as Executive Officer, HQ Fleet Commander in Chief as Chief of Staff and in the Naval Operations Command as Chief of Staff.
He was Commanding Officer of LM Covadonga in 1995, 1996 and 1997, of Submarine Tender Ship Almirante Merino in 2001 and DLH Almirante Cochrane in 2005.
Amongst his shore duties, we can highlight his performance as Head of Studies of the Electronic courses of the former School of Operations, from 1998 to 1990; Chief of the Electronic Department and Deputy Chief of the Operations Department at the former Directorate of Weapons from 1992 through 1993; Chief of the Management Control Department at the Directorate of Education in 2002 and Head of Project for the commissioning of Frigate Williams into the Chilean Navy and Head of the Building Project of the future Maritime Patrol ships at the Directorate of Research and Development, Chilean Navy from 2003 to 2004. He took the Electronic Naval Engineering course in 1981 and 1983, the General Staff course in 1994 and the regular Staff course in 1998, the two latter ones in the Naval War Academy.
He owns the following decorations:
Armed Forces Military Star, Military Star rank.
Mission Accomplished Third Class
On Board Service Cross, Second Class Category
Minerva Naval Polytechnic Academy
Armed Forces Military Star, Military Merit Star rank.
Service on Board Cross, 1st Class Category
Service on Board Great Cross
Minerva Naval War Academy
Armed Forces Military Star, Military Merit Star.
As from 13 December 2007 he took over as Director Units Refit, Chilean Navy.
On 28th December 2007 he was promoted to Commodore.
On 1st January 2009 the Supreme Government promoted him to Rear Admiral.
He is married to the former María Angélica Schuffeneger and they have four children; Jorge Esteban, Claudio Andrés, Carlos Alberto and Fernanda Graciela.