Jaime Espinosa Hormazábal
Rear Admiral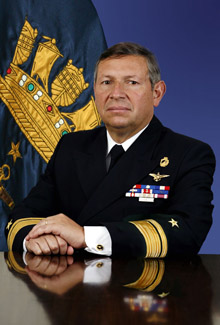 1958
Rear Admiral Espinosa was born in Valparaiso on 17th September 1958. He entered the Naval Academy "Arturo Prat" in 1973 and was commissioned an Ensign on 1st January 1978.
He is a Naval Aviation specialist and holds the degree of Weapons Engineer with a major in Naval Aviation and he is a Staff Officer.
His seagoing appointments are the following: TS "Esmeralda, APD "Orella", Fleet Command in Chief on board DLH "Blanco Encalada", DLG "Latorre" as Principal Warfare Officer (PWO) and Flagship Third Pacific Fleet USN; USS "Coronado", where he served for two years at the Operations Department, COMTHIRDFLT Staff.
He was Commanding Officer of High Seas Tug Boat ATF "Janequeo" in 1995, Missile Boat LM "Casma" in 2001 and Barge LST "Valdivia" in 2005.
His air naval career has mainly taken place at the VP-1 Air Maritime Patrol Squadron, being Aircraft Commanding Officer and Instructor C-95, P-111, Westwind II and P-3ACH models. In 2000 he was Commanding Officer VP1 Squadron and from 2006 to 2007 Chief of Staff, Naval Aviation Command.
Amongst his shore duties, we can underline his performance as Defense, Naval, Air and Military Attaché to the Chilean Embassy in Seul, Southern Korea from 2003 through 2004.
On 19th December 2007, he took over as Navy Comptroller.
On 28th December 2007 he was promoted to Commodore.
On 1st January 2009 the Supreme Government promoted him to Rear Admiral.
He is married to the former Macarena Acosta and they have four children: Jaime Antonio, Beatriz, Macarena and Juan Pablo.