Antonio Idiaquez Bengoechea
Rear Admiral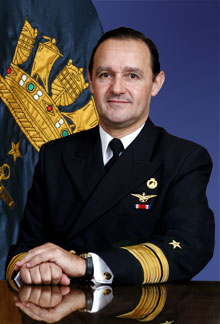 1957
Rear Admiral Idiaquez was born in Viña del Mar on 17 March 1957. After studying at the Luis Campino Institute of Humanities in Santiago, he entered the "Arturo Prat" Naval Academy and was commissioned an Ensign on 1st January 1978.
He is a Staff and Naval Aviation officer. Military Professor at the Naval War College, Weapons Engineer with a major in Naval Aviation and Bachelor's degree in Naval and Maritime Sciences. He is a graduate from the Naval Command College of the United States Navy and also holds a Diploma in Business Administration from the Austral University and a Master's degree in International Relations from the Salve Regina University in Newport, Rhode Island, United States.
During his naval career, he has been embarked for more than 12 years on board different combat and support units, including Training Ship "Esmeralda", Patrol Ship, "Fuentealba", Antarctic Ship "Piloto Pardo", PFG "Almirante Lynch", DLH "Blanco Encalada", DDG "Capitan Prat" and Fleet Flag Ship on board DLH, "Cochrane". Furthermore, he has served as Commanding Officer of the Fleet Tug and Rescue Boat "Colo Colo", SS, "Almirante Merino", and TS "Esmeralda"
Concerning his aerial activities, he has filled duties in the HS-1 Anti Submarine Helicopters Squadron and as Flight Instructor of the Naval Aviation College. In the academic scope, he has served as Professor of the Naval War College for different periods.
For two years he performed as Aide to the National Defense Minister and two years as Director of International Affairs of the National Defense Staff.
On 18th December 2008, he took over as Director of Intelligence of the Navy.
On 1st January 2009 the Supreme Government promoted him to Rear Admiral.
Rear Admiral Idiaquez is married to the former Paulina Aceituno and they have two sons; Javier and Martin.