Vice Admiral Rodrigo Álvarez Aguirre
Chief of Joint Staff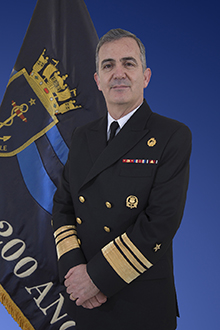 Vice Admiral Rodrigo Álvarez was born in Viña del Mar on January 26th , 1961. After completing his studies at Colegio Calazans in Santiago in 1975, he joined the Naval Academy and graduated as a midshipman on January 1st, 1981.
He has a Bachelor in Science of Engineering degree with a major in Electronics and a Master of Science in Maritime Affairs from the Chilean Naval War College becoming professor in Naval Operations in 1997.
During his career, he served aboard the County Class Destroyers "Capitan Prat" and "Blanco Encalada". He also served in the Fleet Training Command and in the staff of the Fleet as advisor and department head.
As Commanding Officer, he served aboard the missile boat "Almirante Uribe" and the frigate "Almirante Latorre", becoming her first commanding officer.
His shore tour assignments include project manager at the Directorate of Programming, Investigation and Development; at the Fourth Naval Region Staff.
As Captain, the Commander in Chief appointed him as President of the War College.
His tours overseas include the Chilean Naval Mission in the United States, with the Chilean embassy in Israel, and the Chilean Technical Inspectorate Office in the Netherlands during the purchase and transfer of the Karel Doorman and Jacob Van Heemskerck class frigates.
He was appointed as commodore on November 22nd , 2010 and became Commander of the Fifth Naval Zone.
On January 1st , 2012, the President promoted him to the rank of rear admiral.
On November 23rd , 2012, he became Deputy Chief of Staff of the Navy.
On December 5th , 2014 the Commander in Chief of the Navy appointed him as Commander in Chief of the Fleet.
On January 1st, 2016, he was promoted to the rank of vice admiral by the Chilean government and became Vice Chairman, Joint Chiefs of Staff.
On November 6, 2018, he assumed the position of Chief of the Joint Chiefs of Staff.