Rear Admiral Otto Mrugalski
Director of Maritime Interests and Aquatic Environment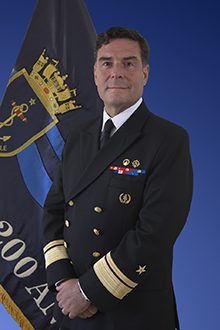 Littoral Rear Admiral was born in Punta Arenas on May 27, 1961. After studying in Colegio Aleman y Salesiano San Jose in Punta Arenas he attended the Arturo Prat Naval Academy and he later graduated as midshipman on December 18, 1982.
He is an Officer with a specialization in Littoral, and Maritime Signaling. He has a Master's Degree in Sciences with a specialization in Maritime Security from the Maritime University of Malmö, Sweden and a Master's Degree in Management of organizations from the Universidad Adolfo Ibañez and the Naval War College. He also graduated from the United States Coast Guard Training Center in Yorktown, Virginia. Where he took the International Maritime Officers Course.
During his professional career he has been Commander of the LPC Guale (1987 - 1988), Midshipmen Instructor aboard the Training Ship Esmeralda (1990), Harbormaster in Puerto Natales (1995) and Puerto Lirquén (1999-2001), Division Officer at the Arturo Prat Naval Academy (1996), Head of the International Affairs Department of the Maritime Territory and Merchant Marine General Command (2004-2006), Maritime Governor in Valdivia (2006-2007), San Antonio (2010), and Valparaíso (2011-2012), Naval Attaché at the Chilean Naval Mission in London and an Alternate Representative of Chile at the International Maritime Organization (2008-2009), Assistant Director of the Maritime Interests Command and Aquatic Environment (2013-2014).
On November 21, 2014, he became the Director of Maritime Interests and Aquatic Environment.
On January 1, 2015, the Supreme Government granted him the promotion to Littoral Rear Admiral.