Rear Admiral David Hardy Videla
General Commander of the Marine Corps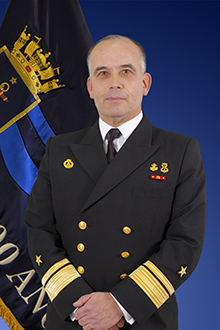 Rear Admiral Hardy was born in Viña del Mar on June 10, 1961. He completed his primary and secondary studies at the Mackay School in Reñaca, a school in the British tradition, graduating in 1978. He graduated from the Arturo Prat Naval Academy in 1982, as a midshipman in the Marine Corps.
He graduated from Marine Corps specialty courses in commandos in 1987, infantry in 1989, and chief of staff in 2000. He holds a master's degree in naval and maritime sciences as well as the Chilean professional titles of military professor of infantry, conferred by the Naval Polytechnic Academy, and military professor of integral planning, conferred by the Naval War College.
In 2001, he graduated from the course in command and chief of staff from the Naval War College of the Navy of Argentina.
During his career, he has distinguished himself in different combat roles, commanding units of commandos, artillery, and infantry in the Marine Corps Detachments No. 1 in Iquique, No. 2 Miller in Viña del Mar, No. 4 Cochrane in Punta Arenas and in the Commandos Group of the Marine Corps. He also excelled as operations officer in the infantry force of amphibious assaults of the Marine Corps (in the No. 2 Miller detachment) in 2002 and as second commander in 2005. Other important positions he has held include as adjutant to the General Commander of the Marine Corps in 1991 and 1992 and as dean of studies of the Naval Polytechnic Academy in 1998 and 1999.
In 2003 and 2004, he was a professor at the Naval War College, where he chaired the courses in conjoined operations and taught classes in intelligence, amphibious operations, and joint operations to students of the joint courses of the Armed Forces.
He reached the rank of commander on January 1, 2003. On December 2, 2005, he took over as commander of the Marine Corps detachment No. 3 Aldea, a role which he held in 2006 and 2007.
In 2008 and 2009, he was stationed in the United States Southern Command as defense liaison officer, having reached the rank of captain on January 1, 2008. Upon his return to Chile, he became head of the Planning Department at the Naval Operations Command in Valparaíso.
On December 2, 2010, he became commander of the detachment No. 2 Miller and second commander of the Expeditionary Amphibious Brigade.
On November 22, 2012, he was sworn in as commodore and became Director of Defense Intelligence in the Joint Chiefs of Staff.
On January 1, 2014, he was promoted to the rank of Marine Corps rear admiral by the Chilean government.
On November 27, 2014, he became General Commander of the Marine Corps.
He is married to Mrs. Paulina Lanas Mardones and is the father of four sons, David, Martín, Ian, and William.