Rear Admiral Carlos Schnaidt Mecklenburg
Commander in Chief of the Submarine Force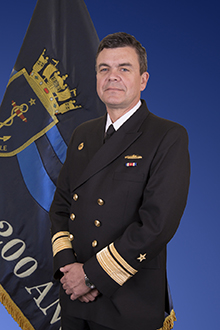 Rear Admiral Schnaidt was born in Valparaiso in 1966. He joined the "Arturo Prat" Naval Academy in 1982, and he later graduated as Midshipman. He also sailed aboard the Training Ship "Esmeralda" in 1987.
He is a specialist in Submarine Warfare, and he completed his basic studies as Chief of Guard Duty and Attack Coordinator at the Submarine School "Almirante Allard" and the Commander course of the Submarines in Chile and Brasil in 2008.
Additionally, he is a Specialist in Staff and he has a Diploma in Strategy and Crisis Management and he graduated from the Command and Staff Course of the Peruvian Navy and the Upper Management Program of Defense, carried out in the Pontifical Catholic University of Peru.
Among his postings on land he worked in the Submarine Training Command, he was an instructor at the "Arturo Prat" Naval Academy, the Training Center of the Navy, the Command of Naval Operations and the General Staff of the Chilean Navy, first as chief of Planning Division and then Chief of Department of Operations. He was also a naval attaché at the Chilean Embassy in France.
For 16 years, he served on land units and submarine forces. He was commander of the Patrol Boat "Grumete Díaz" (1994-1995), the High Sea Towboat "Galvarino" (2006) and the Submarines "Simpson" (2009-2010) and "General Carrera" (2011). Later in 2016 he was Commander of the Training Ship "Esmeralda".
On December 7, 2017, he became Commander in Chief of the Submarine Forces.
On December 29, 2017, the Chilean Government granted him the promotion to Rear Admiral.