Rear Admiral Alberto Soto Valenzuela
Commander in Chief of the Fourth Naval Zone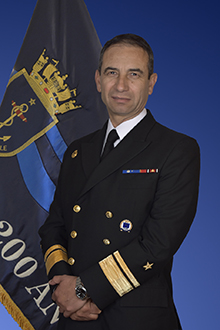 Rear Admiral Soto was born on December 26, 1966, in Valparaiso. He joined the Naval War College in 1982 and he graduated in December 1986.
Throughout his career, he has served in different surface units such as Training Ship "Esmeralda", CL "O'Higgins", LST "Chacabuco", DLG "Almirante Latorre", PFG "Ministro Zenteno" and BMS "Almirante Merino". He was also in command of the Hydrographic Ship "Corneta Cabrales" (2006), in the Third Naval Zone with its HQ in Punta Arenas, as well as Frigates "Almirante Riveros" (2011) and "Almirante Lynch" (2012) of the National Fleet.
During his latest Command role, he was Commander of the Task Unit 176.2.1 of Rimpac 2012 in Hawaii, leading 6 foreign combat units.
His experience on land include serving as an observer in the UN during maritime operations in Cambodia as a member of the provisional authority of the UN (UNTAC-1993), as Head of a training group in the Training Center of the Navy (CENTARM), and as an Analyst in the Department of Analysis of Operations, Direction of Programs, Research and Development of the Navy (DIPRIDA).
In the year 2000, he obtained his Masters Degree in Science in Research of Operations at the Naval School for Postgraduate Courses in Monterey, California, USA.
In 2006, he earned his specialty in Staff at the Naval War College where he graduated with the first place among his classmates. He was later chosen to attend to the Naval Command Course of the Naval War College of the United States of America in Newport, where he graduated from the class NCC 009 in 2009. That same year he was proclaimed 'International Fellow' by the NWC, and he worked as a professor of Joint Military Operations (first in a non NATO country) and as an Assistant in National Security Affairs.
Further academic experiences include being a teacher of "Mangement of Operations" at the MBA of the Universidad de Valparaiso (2001); Simulation at Universidad de Viña del Mar (2000-2004), Investigation of Operations and Game Theories at the Staff Course of the Naval War College and the Diploma of High Institutional Direction (2011 to current date).
Between 2013 and 2015, he served as Head of the Department of Strategic Planning of the Joint Staff and during 2016 and 2017 he was Head of the Department of Plans of the General Staff of the Chilean Navy.
On December 18, 2017, he was appointed Commander in Chief of the Fourth Naval Zone.
On December 29, 2017, the Chilean Government granted him the promotion to Rear Admiral.