Commodore Pablo Niemann Figari
Head of the Training Center of the Navy and Commander of the Rimpac Group 2018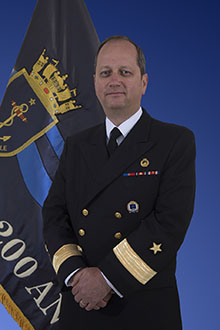 He is a Specialist in Staff and Naval Electronic Engineering. He has a Masters in Naval and Maritime Sciences from the Naval War College, a Masters in Foreign Affairs from the Universidad Salve Regina, and in 2010, he graduated from the Naval Command College at the Naval War Academy of Newport, USA. Commodore Niemann was born in Valparaiso on October 30, 1966. He Joined the "Arturo Prat" Naval Academy in 1983, and he graduated as Midshipman on January 01, 1988.
Throughout his career, for more than 18 years, he has served aboard different units of the Chilean Navy, such as the Missile Boat "Guardiamarina Riquelme", the Northern Missile Command, and the Frigate "Almirante Condell", being in Command of these units.
Since December, 2014, and up to date, he is the Head of the Training Center of the Chilean Navy and Commander of the Rimpac Group 2018.
On December 29, 2017, he was awarded the rank of Commodore.