Missile Craft Chipana (2nd)
Año:

1973

Desplazamiento:

450 tons

Potencia de Maquinaria

11,880 HP
Armamento:
4 20 mm. machine guns.
8 Gabriel missiles.
2 76/62 mm. cannons.
2 .50 machine guns.
Velocidad Máxima

32 knots

Eslora:

58 meters.

Manga:

7,62 meters.

Puntal:

5,2 meters.

Calado:

2.7 meters.

Comandante

Commander Yerko Marcic Conley
Nombres anteriores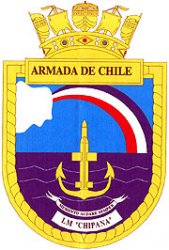 The LM.31 Chipana, a SAAR IV type missile cutter, was built at the Shipyards located in the port of Haifa, Israel in 1973, under the name of INS Keshet (Bow).
In October that year, this ship participated in the Yom Kippur War, in which there were combats between missile-equipped units for the first time in naval history. The INS Keshet participated in the battles of Baltim and Damieta (Egypt), as well as in other military operations.
In 1974, the INS Keshet, along with the INS Reshef (current LM.34 Angamos), took part in a Task Group that sailed across the Mediterranean Sea, and circumnavigated the African continent to operate on the Red Sea and Eliat Gulf. From that moment on, it became a fundamental part of the Naval Forces of Israel.
On December 30, 1980, at the port of Sharem el Sheik, Eilat, the INS Keshet was renamed as LM. 31 Chipana, and the Chilean National Flag was raised on board this ship. In January 1981, the LM Chipana set sail for Chile, arriving in early February that year.
This ship received her Combat Flag in a ceremony that took place in the port of Punta Arenas, on November 5, 1982. This flag was donated by the Association of Ex Naval Cadets and Officers "Caleuche", Magellan Captaincy.
Nowadays, the LM.31 Chipana is part of the Southern Missile Cutters Commando, which base is located in Puerto Williams, looking after national sovereignty on southern seas.
Last Modification: 09/01/2009