Hydrographic Service Patrol Corneta Cabrales (II)
Año:

1996

Desplazamiento:

Max. 532 ton

Potencia de Maquinaria

2.560 HP.
Armamento:
2 .50 machine guns
1 40/56 mm gun
Velocidad Máxima

16,5 knots

Eslora:

42.5 meters.

Manga:

8 meters

Puntal:

4 meters.

Calado:

4,02 meters.

Comandante

Lieutenant Commander Pedro Figueroa Manzano
Nombres anteriores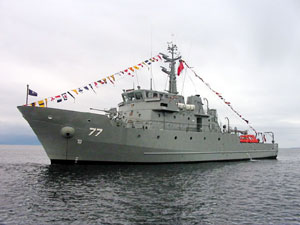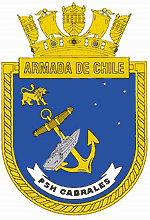 General Service patrol boat built at ASMAR (T), under the conditions of the Taitao Project.
The PSG Corneta Cabrales was commissioned into the Chilean Navy on August 29, 1996 according to the Resolution C.J.A. Nº 4520/8, June 8, 1996.
She was refitted to serve as Patrol Boat for the Hydrographic Service, in support of the hydrographic activities.
The following equipment turns the PSG Corneta Cabrales into one of the most modern research platforms in South America: two multi-beam echo-sounder, one to be used down to 200 meters, with simultaneous reception of 1440 beams per scan, and another one for research and monitoring between depths of 200 and 1200 meters, with reception of 320 beams per scan; differential global positional system DGPS; one directional echo-sounder, which allows the identification of any risk of underwater danger against the ship; mono-beam sounder; probes; side scan SONAR; marine dredge for seabed sediment sampling and general equipment for direct communication with the Tidal Monitoring Satellite Stations.
The Hydrographic Service also counts with the support of a launch to perform research and monitoring on shallow waters which cannot be accessed by the ship.
Last Modification: 09/01/2009