Año:

1970

Desplazamiento:

8.775 tons

Potencia de Maquinaria

16,500 HP
Armamento:
3 helicopters.
10 .50 machine guns.
1 C.I.W.S Phalanx.
Velocidad Máxima

20.5 knots

Eslora:

174 meters.

Manga:
Puntal:
Calado:

6.1 meters.

Comandante

Captain Rodrigo Ramirez Navarro
Nombres anteriores
USS LST 1189 San Bernardino.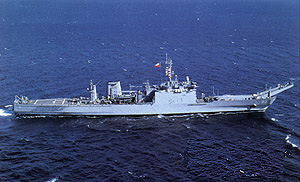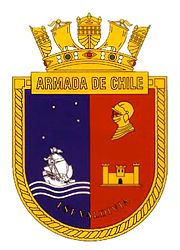 Her name recalls the heroic deed carried out by Admiral Lord Thomas Alexander Cochrane on February 3, 1820 when, with only two ships, the brigantine Intrépido and the schooner Moctezuma, 350 men commanded by Naval Artillery Commander Guillermo Miller disembarked in Corral Bay, taking over all the fortresses that protected the town, and taking possession of Valdivia City, the main fortified city that the Spanish Crown kept in Chile.
This type of unit was "top of the range" amphibious unit with the ability to run aground
She is a Newport Class Barge, which is different from the average LST unit, because of the shape of her bow, which allows to reach a speed of 20 knots.
Her bow ramp, which slides through the derrick (from bridge to bow), allows her to embark and disembark both troops and vehicles, which can freely move between the main deck and the interior deck, also called "tank deck". Morover, she has a ramp at the bow from which is possible to embark and disembark amphibious vehicles while the ship is sailing.
The US Navy built twenty of these units, and the former USS San Bernardino (LST-1189), current LST. 93 Valdivia, was the eighth of her type. She was built by National Steel & Shipbuilding Yardships in San Diego, USA. Her keel was put on July 12, 1969, and was launched on March 28, 1970.
She was commissioned into the US Navy on March 27, 1971. In 1972, she participated in the final stage of Vietnam War; in 1980, She operated on the Indian Ocean area; and in 1983 she was assigned to the port of Sabebo in Japan, and carried out assistance tasks in Japan, Korea and The Philippines; in 1990, she participated in Operation Desert Storm; and subsequently came back to the Pacific Ocean area to carry out regional peace and development operations.
The Chilean Flag was raised on board this ship on September 30, 1995 in San Diego, California. This ship arrived in Valparaíso on December 1, 1995.
On June 29, 1996, the Town Council of Valdivia gave this ship a Combat Flag in the port of Corral. On December 26 of the same year, the Emeritus Bishop of Valparaíso, Jorge Medina Estévez gave the ship her standard.
She is currently commissioned into the Amphibious and Naval Transport Commando, carrying out different duties from Arica to Puerto Williams with the Marine Corps, the Naval Zones, and assistance duties to the citizenry.
Last Modification: 07/01/2009