Missile Frigate Almirante Williams
Año:

1986

Desplazamiento:

5.496 tons

Potencia de Maquinaria

50.000 SHP
Armamento:
02 Sea Wolf anti-missile system launchers
02 Oerlikon 20 mm. guns
02 triple 324 mm. Plessey torpedo launchers.
Velocidad Máxima

30 knots

Eslora:

148,2 meters

Manga:

13,875 meters

Puntal:

28,3 meters

Calado:

6,4 meters

Comandante

Captain Rául Ernesto Villegas Zanon
Nombres anteriores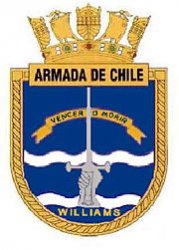 The frigate "Almirante Williams" (former UK HMS "Sheffield") it's a Type 22, Broadsword class Batch 2 frigate, designed as specialist anti-submarine platform.
The ship was built by Swan Hunter Shipbuilders in Tyneside, UK, between 1984 and 1986, commissioned on July 26th of 1988 and was retired form the active service on November 15th of 2002.
Was the third Royal Navy warship to bear the name.
On September 5th of 2003, the Chilean flag was raised on board and renamed as "Almirante Wiliams" at the Devonport Naval Base, Playmouth, UK.
Last Modification: 26/03/2009