Rear Admiral Yerko Marcic Conley
Deputy Chief of General Staff of the Chilean Navy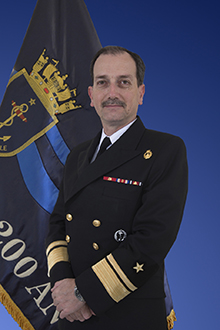 Rear Admiral Yerko Marcic  was born in Viña del Mar on February 27, 1964. He performed his primary and secondary studies in Saint Dominic School and he later joined the Arturo Prat Naval Academy in 1980 to graduate as a Midshipman in January, 1986.
Over the course of 19 years embarked on different ships he has served aboard the Training Ship Esmeralda, ATF Aldea, LST Chacabuco, DLG Latorre, DLH Cochrane, LST Valdivia and the Chief Command of the Fleet as Chief of Staff during 2014 and 2015.
He has been in command of the following units: Patrol Boat WPC Cabo Odger, Missile Boats Serrano and Chipana, the Southern Missile Command and the Frigate Almirante Lynch.
His postings on land include the Arturo Prat Naval Academy, the Chiloe Naval District, as an naval attaché in the Chilean Embassy in Ecuador and as the Deputy Director of Naval Intelligence.
Commodore Marcic is a specialist in Staff, he graduated from the Chilean Naval War College and the Brazilian Naval War College. He is also a Naval Engineer in Weapons with a specialization in navigation. He has a Master in Naval and Maritime Sciences, a master in Business Management from the Universidad Federal de Río de Janeiro and a Diploma in High Direction.
On June 21, 2017 he became the Deputy Chief of General Staff of the Navy and he was promoted to Commodore on the 20th of June.
On December 29, 2017, the Supreme Government grants him the promotion to the rank of Rear Admiral.