Rear Admiral Marcelo Gomez Garcia
Commander in Chief of the Second Naval Zone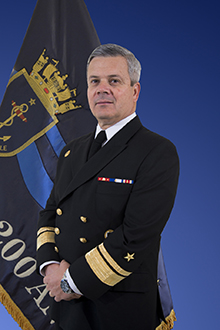 He has a Bachelor in Science of Engineering degree with a major in Electronics and a Master of Science in Maritime Affairs from the Chilean Naval War College.Rear Admiral Gómez was born in Santiago on April 9, 1965. He completed his primary and secondary education in Valparaíso and Viña del Mar. He joined the Naval Academy in 1981 and graduated as midshipman in January 1986.
He also completed the Naval Command College course at the United States Naval War College in 2008 and the Combined Forces Maritime Component Command (CFMCC) course at the US Southern Command in 2016.
He has served more than 17 years aboard many different Navy units, including the Patrol Torpedo Boat "Fresia", the missile boats "Covadonga" and "Orella", training ship "Esmeralda", among others.
As junior officer, he served aboard USS John Hancock and USS Oldendorf, earning his Surface Warfare Officer qualification.
RADM Gómez has been selected for command six times. As lieutenant, of the Patrol boat "Quidora". As Lieutenant Commander of the "Grumete" Patrol Boats flotilla and the missile boat "Teniente Orella". As Commander, he commanded Northern Missile Boats Flotilla and the frigate "Almirante Latorre". Finally, as Captain, he served aboard the frigate "Almirante Condell" in 2011.
His tours overseas include the Chilean Naval Mission in the United States as department head and later as attache where in addition to his regular duties he also acted as chairman of the Association of Naval Attachés in the United States.
Between 2014 and 2015, he served as President of the Naval War College.
In December 2015, the Commander in Chief of the Navy selected him to become Director of Human Resources of the Navy.
On December 12, 2016, he assumed as Commander in Chief of the Second Naval Zone.
On January 1, 2017, the government promoted him to the rank of rear admiral.