Rear Admiral Gonzalo Maldonado Valdés
Director of Education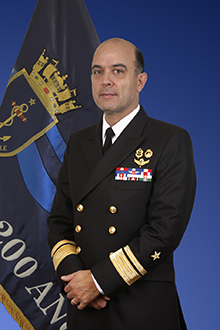 Rear Admiral Gonzalo Maldonado was born on August 13, 1964 in Valparaíso. After completing his studies at the Mackay School and the Seminario San Rafael, he entered the Arturo Prat Naval Academy, graduating as midshipman on January 1, 1985.
He is a specialist in chief of staff, navigation, and tactical diving. He holds master's degrees in naval and maritime sciences as well as in organizational management. He also holds the Chilean professional title of military professor in tactical diving.
During his more than 11 years embarked, he has served aboard the frigates Condell and Lynch, the barges Rancagua and Valdivia, and the training ship Esmeralda. He was commander of WPC Fuentealba and ATF Lautaro.
In his more than eight years in Special Forces, he has commanded several operative units, rising to commander of the Tactical Diving Command for the years 2003 and 2004 and second commander of the Special Forces Command in 2007 and 2008.
Among his destinations on land include his work as assistant comptroller of the Navy in 2012 and 2013, as assistant director of the Naval Polytechnic Academy in 2014, and as assistant director of education of the Navy in 2015 and 2016.
On December 5, 2016, he was promoted to Director of Education of the Navy.
On January 1, 2017, he was promoted to the rank of rear admiral by the Chilean government.