Rear Admiral Guido Cabrera Crespo
Director of Supply of the Navy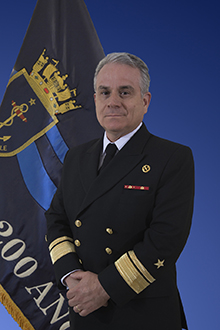 Rear Admiral Cabrera was born on December 13, 1962 in Valparaiso. After completing his education at the Padres Franceses (SS.CC.) school in Valparaiso, he entered the Arturo Prat Naval Academy, graduating as supply midshipman in 1984.
In December 1987, he obtained the professional title of supply engineer. In 1992, he received his diploma in finance from the Pontifical Catholic University of Valparaíso. In 1994, he was chosen by the Navy to study business at the University of Valparaíso, which he did between 1995 and 2000, thereby receiving a bachelor's degree in business administration and the Chilean professional title of commerce engineer.
In his more than 30 years of service as a supply officer, he has served in diverse positions related to finance and logistics for the institution, excelling in his work aboard the fleet as well as in land units, where he principally worked as director of the Department of Finances and Supply.
On land, he has had notable assignments in the Directorate of Supply, General Directorate of Services of the Navy, and as head of the Supply Center (I), particularly in logistics, oriented towards the administration of spare parts and consumable goods, food, and clothing at an institutional level.
From 2002 to 2006, he served in the industrial shipyard ASMAR Talcahuano as head of the Department of Management Control, logistics manager, and finance manager.
He was head of finance of the Chief Command between 2007 and 2008 and in 2009 was stationed at the Chilean Naval Mission in London as head of finances.
In 2011, he took over as corporate finance manager of ASMAR, a position which he held until January 2014. In this role, he was responsible for the financial administration of the Corporate Direction and the industrial plants of Valparaíso, Talcahuano, and Magallanes.
In 2013, he graduated with an MBA from the University of the Andes.
In 2014, as Accounting Director for the Navy, he received a diploma in upper-level management at the ACANAV.
On November 18, 2014, he became Budget Director for the Navy and joined the Board of the Navy Club (V).
On December 3, 2015, he became Supply Director for the Navy.
On January 1, 2016, he was promoted to the rank of rear admiral by the Chilean government.