Rear Admiral A Leonel Muñoz Villarreal
Director of the National Academy of Political and Strategic Studies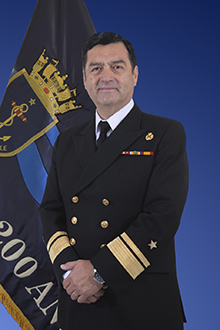 Rear Admiral Leonel Muñoz was born in Viña del Mar on August 22, 1960. He attended the Prat Naval Academy and he graduated as midshipman in 1982.
In 1988, he graduated as a Specialist in Telecommunications and in 1999, after completing a course in the Naval War College he was granted the title of General Staff Officer. In 2001, he received the Specialist in Social and Defense Communications Diploma at the National Academy for Political and Strategic Studies in Chile. He also studied subjects such as literature, art history and philosophy in Universidad Adolfo Ibañez.
Rear Admiral Muñoz has over ten years of service on board of different Navy ships such as Destroyer Portales, Destroyer and Helicopter Carrier Almirante Blanco Encalada, Oil Tanker Araucano, Frigate Condell, Boat Chacabuco, Training Ship Esmeralda, and the Yacht Blanca Estela.
During his years of service on land he's been the Head of the Naval Language Center and he served as Instructor at the Prat Naval Academy. He has also worked at the Naval Telecommunications and Information Technology Service, The Naval Office of Sociologic Studies and the Naval General Secretariat.
He has foreign decorations such as 'Commander of the Orange Nassau' from Holland and 'Cruz del Mérito Naval Con Distintivo Blanco' from the Spanish Navy.
Currently has the certification of Evaluator of the publications of the Institute of International Studies of the University of Chile.
Rear Admiral Muñoz was also appointed Naval Assistant to the Chilean Presidency of the Republic from 2006 to 2009.
On March 14, 2010, he became the Attaché at the Chilean Embassy in Spain, later on February 2012 he was posted to the Naval General Secretariat.
On April 13, 2012, he became the Naval Director of Communications.
On June 20, 2013, he became the Secretary-General of the Navy and on the 21st he was invested as Commodore.
On January 1, 2015, the Chilean Government granted him the promotion to Rear Admiral.
On December 19, 2017 he assumes as Director of the National Academy of Political and Strategic Studies.