Rear Admiral Jorge Rodriguez Urria
Director of Operations and Joint Administration of the Joint Staff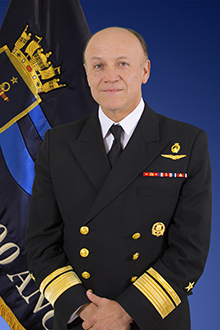 Rear Admiral Jorge Rodríguez Urria was born in Santiago on February 20, 1961. After studying at Colegio Sagrados Corazones de Concepción, he attended the Arturo Prat Naval Academy and he graduated as a midshipman on January 01, 1982.
On land, he has been posted to the Navy Weapons School, he's been a Naval Academy Officer, head of studies at the Weapons School, student of the Naval War College and deputy chief of the Officers Department and Civilian Employee at the Naval Personnel Command. In 1992, he obtained the title of Tactical Coordination Officer (TACCO) which allows him to operate on aircrafts of the Attack Helicopters Squad HA-1.
He is a specialist in Staff and Torpedoes and Weapons A/S. He has the professional title of Engineer in Weapons with a specialization in Torpedoes and anti-submarine weapons and a master in Naval and Maritime Sciences.
During 2007 and 2008 he was a Defense Attaché at the Chilean Embassy in Australia and New Zealand.
With over 19 years on board, he has been aboard the Training Ship Esmeralda', the Cruiser 'O'higgins', frigate 'Almirante Lynch', Destroyer 'Capitán Prat', Frigate 'Ministro Zenteno', Amphibious Command and naval transport, also serving in different units of the fleet as tactical coordinator of the helicopter squad HA-1, on command of the attack boat 'Almirante Uribe', the attack boat 'Chipana', the Southern Attack Boats Unit and the Fleet Oil tanker 'Araucano'. On 2010 he was appointed Chief of Staff of the National Fleet.
He was the Commander of the Training Center of the Navy during 2011 and on December he became Chief of Staff of the Naval operations Unit for 2012.
On December 03, 2012, he became Commander in Chief of the Fourth Naval Zone.
On January 01, 2013, the Supreme Government granted him the promotion to Rear Admiral.
On December 10, 2014, he became the Director of Operations and Joint Administration of the Joint Staff.
He is married to Mrs. María Magdalena La Luz Novion and they have three children: Francisca, Felipe and Andrés.