Admiral Julio Leiva Molina
Commander in Chief of the Chilean Navy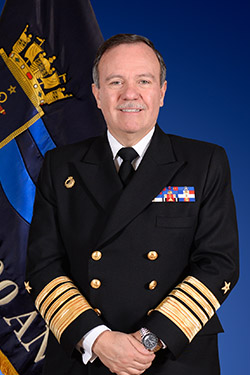 Admiral Julio Leiva was born in Santiago on January 21st, 1960. He studied in the "Liceo Alemán del Verbo Divino" in Los Angeles and susbsequently was admiitted into the Naval academy, graduating as Midshipman in January of 1980.
In 1985 he graduated as Electronic Engineer. Later, in 1996 he graduated from the Staff course at the Chilean Naval War College.
Admiral Leiva has served more than 14 years of service aboard different units such as the destroyers "Portales" and "Williams", DLH "Blanco Encalada", ATF "Janequeo", Staff of the Fleet and the training ship "Esmeralda". In 1997, as Lieutenant Commander, he assumed the first command of the LM "Teniente Uribe" in Wilhemshaven, Germany. Later, in 2003, the LST "Rancagua", in 2006, as Commander he was appointed as the first commander of the FF "Almirante Cochrane", and in 2009 held the position of Chief of Staff of the Fleet.
During his years ashore he held several positions, namely, in the projects group of the Investigation Directorate, Programs and Development of the Navy; as Departament Head at the Education Directorate of the Navy; as Logistics Officer of the Peace Keeping Operations in Haiti, among others.
On November 22nd, 2010 he was promoted to the rank of Commodore and takes over as Director of Command and Control for the Joint Staff (J-6). During this period, on October 29th, 2011, the government promoted him to Rear Admiral.
December 10th, 2012 is appointed Commander of the First Naval Zone.
In April of 2014 he was appointed as Head of the National Defense for the containment of the mega fire in Valparaíso, for which he was honored as "Illlustrious Citizen" by the Mayor of the city.
On December 11th, 2014 takes over as Chief of Naval Operations.
January 1st, 2015 he is promoted to Vice Admiral.
December 10th, 2015 he assumed as Director of Personnel.
On June 2nd, 2017, the President appointed him as the new Commander in Chief of the Navy with the rank of Admiral, taking over on June 18th, commencing a constitutional 4-year period.