Enrique Larrañaga Martin
Vice Admiral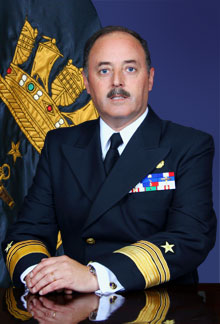 1959
Vice Admiral LARRAÑAGA was born in Viña del Mar on 3rd January 1959. After studying at the Saint Dominic's School, he entered the Naval Academy "Arturo Prat" and was commissioned an ensign on 1st January 1977.
He is a Staff and Navigation Systems officer. He holds the professional degree of Weapons Engineer with a major in Navigation Systems and the academic degree of Bachelor's in Naval and Maritime Sciences. He owns the degree of College Military Professor on the Intelligence subject. He is a graduate from the Joint Staff course at the France Armed Forces.
For more than 14 years of seagoing appointments, he has served in APD "Orella", Destroyers Light Helicopters DLH "Captain Prat" and "Blanco Encalada", Missile Frigate PFG "Almirante Lynch" and Training Ship TS "Esmeralda". He was Commanding Officer of Missile Frigate LM "Chipana" in 1994, Transport Ship TS "Aquiles" in 1999 and Training Ship TS "Esmeralda" in 2002.
Amongst his shore duties, we can mention: Division Officer from the Naval Academy "Arturo Prat"; Head of the Logistic Support Center in Iquique; Chief of Studies, Naval War College, Deputy Director, Naval Poly-technical Academy; Head of the Operations Department, Directorate General of Navy Services; Director, Naval War College and Navy Director of Education.
On 19th December 2007, he took over as Secretary General Chilean Navy.
As of 1st January 2008, the Supreme Government promoted him to Rear Admiral.
On 15 Jun 2009, he assumes as Director General of Maritime Territory and Merchant Marine.
On Janury 1st, 2010, the Supreme Government promoted him to Vice Admiral.
Vice Admiral Larrañaga is married to the former Jeanette Silva and they have four children: Enrique, Isabel and the twins Felipe and Sebastian.