Marcelo Barbieri Wiedmaier
Rear Admiral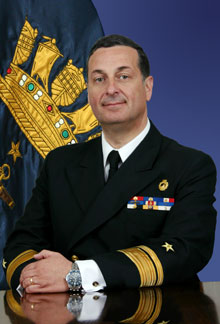 1958
Rear Admiral Marcelo Barbieri was born in Valparaíso on 15th February 1958. After studying at the Deutsche Schüle, he entered the Naval Academy "Arturo Prat" and was commissioned as Ensign on 1st January 1977.
He is a Staff, Gunnery and Missile officer. He holds the professional degree of Weapons Engineer with a major in Gunnery and Missiles and the academic degree of Bachelor's in Naval and Maritime Sciences with a major in Gunnery and Missiles.
For his more than 15 years of sea service, he has filled duties in Light Cruise CL "Latorre", Oiler AO "Almirante Montt", Destroyer DLH "Almirante Riveros". His seagoing command posts are: Commander, Torpedo Vessel "Quidora" and Commander, Torpedo Fleet, with primary port in Puerto Williams, in 1995 and 1996 respectively; Frigate "Almirante Condell" in 2001, and Destroyer DLH "Capitan Prat" in 2004, units assigned to the National Fleet. Likewise, he was appointed Chief of Staff, Fleet Command in Chief in 2005.
Amongst his shore duties, we can highlight his performance at the Naval Sub Station "Isla Dawson", unit in which he was Commander in 1990; Chief of Department, Command in Chief First Naval Zone; Head of Studies Midshipmen, Naval Poly-technical Academy; Naval Aide to the National Defense Minister; Chief of Department, Directorate General of Navy Personnel; Director of International Affairs, National Defense Staff.
In 2007 he took office as Head of the Planning and Control Department at the Directorate General Navy Personnel.
On 1st January 2008 the Supreme Government promoted him to Rear Admiral.
On 10th January 2008, he took over as Chief of the Naval Mission to Chile in Washington; Naval and Defense Attaché to the Chilean Embassy in the USA; and Chief of the Chilean Delegation to the Inter American Defense Board.
He is married to the former Patricia Matthews and they have three children: Carla, Magdalena and Marcelo.