Marcelo González Lanfranco
Rear Admiral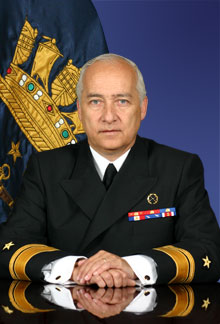 1952
Rear Admiral Marcelo Gonzalez was born on 14th August 1952 in Valparaíso, Chile. After attending the Agustin Edwards and Saint Peter's Schools in Viña del Mar, he entered the Navy in 1974 and was commissioned an Ensign (Supply) on 1st January 1976.
He is a Supply Officer. He holds the professional degree of Supply Technologist, with a Diploma in Procedures Integrated Management from the Adolfo Ibañez University, Diploma in Management on Health Institutions from the University of Chile and System Analyst from the Technical University Federico Santa María.
Throughout his career, he has served on board ATF "Aldea"; PFG "Condell", AO "Araucano", DDG "Riveros", DHL "Blanco" and Command in Chief of the Fleet.
His most relevant shore duties include: Head of the Administrative and Computer Department, Navy Computer Science Center; Chief of the Supply and Finance Department of the Magallanes Naval Hospital; Military Chief of the Navy Supply and Services School "Capitan Enrique Reynolds Valdivia"; Marine Corps Commissioner and Command in Chief of the Fleet; Chief, Supply Center in Valparaiso; Chief of the Procurement Department Directorate of Supply; Chief, Remunerations Department Directorate General Navy Personnel and Deputy Director Navy Directorate of Supply .
On 13th December 2004 he took over as Director, Navy Accounting.
On 6th December 2005 he took over as Director, Navy Budget.
On 12th December 2006 he took office as Director, Navy Supply.
On 1st January 2007 the Supreme Government promoted him to Rear Admiral.
On 12 Jun 2009, he assumes as General Director of Finance of the Navy.
He is married to the former Ana María Uriarte and they have two daughters: María José and Maribel.