Piero Fagandini González
Rear Admiral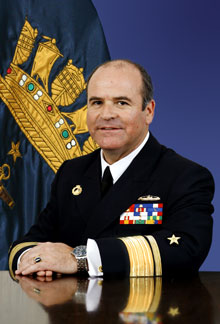 1959

Rear Admiral Piero FAGANDINI was born in Valparaíso on 9th September 1959. After studying at the Sacre Coeur School in Viña del Mar, he entered the Naval Academy "Arturo Prat" and was commissioned an Ensign on 1st January 1979, with the best ratings in his class. Then, he took the XXIV Instruction Cruise on board Training Ship "ESMERALDA".
He is majored in Submarines and graduated with the 1st place in his class. He is a Military Professor of Nautics and Saling. He is a Staff Officer, graduated from the NAVAL WAR COLLEGE and holds the degree of Military College Professor of the Logistics subject. He took and approved with Maximum Distinction the Senior Command Course at the NATIONAL ACADEMY FOR POLITICAL AND STRATEGIC STUDIES (ANEPE) and also took the V Senior Strategic Courses for Ibero American Officers, which took place at the SENIOR CENTER FOR NATIONAL DEFENSE STUDIES (CESEDEN), with HQ in Madrid, Spain, graduating with other 39 officers, from 17 countries in Ibero America. He is also a member of the Chilean Naval History and Maritime Academy, with the rank of numerary Academician.
For his more than 15 years of seagoing appointments, he has served in DDG "ALMTE WILLIAMS"; Training Ship "GUAYAS", from the Ecuador Navy, as Invited Officer to the 2nd Instruction Cruise; Flag Ships CL "O'HIGGINS" and CL "LATORRE"; in Oberon type Submarines "HYATT" and "O'BRIEN" and 209 Class Submarines "SIMPSON and "THOMSON", fulfilling more than 10 years of effective embarkation on operative submarines. Likewise he was Executive Officer of SS "SIMPSON" in 1996 and Executive Officer of TS "ESMERALDA" in 2000. His seagoing command posts took place in patrol craft "ASPIRANTE MOREL" in 1997 and Submarine "THOMSON" from 2001 to 2002.
Amongst his shore duties, we can highlight his performance as Cadet Instructor at the NAVAL ACADEMY "A PRAT", from 1988 to 1989; CHIEF TECHNICAL INSPECTOR OF WORKS (ITO) for the Upgrading Project of the Type Oberon Submarine Sonars, with HQ in Bremmen, Germany, in 1992; Head of Operations, HQ Commander in Chief of the SUBMARINE FORCE in 1994; Chief Officer of the Submarine and Weapons Branch A/S at the NAVY DIRECTORATE OF WEAPONS in 1998; CHIEF OF STAFF OF THE SUBMARINE FORCE from 2003 through 2004; Head of Operations NAVY DIRECTORATE GENERAL OF SERVICES from 2005 through 2006 and Director NAVAL WAR COLLEGE from 2007 to 2008.
As from 17 December 2008, he took over as Commander in Chief of the SUBMARINE FORCE and from 30th December 2008 he was promoted to Commodore.
Amongst the different decorations and medals awarded to Ccommodore FAGANDINI throughout his Naval Career we can stand out the "President of the Republic" decoration in the degree of "Knight", given in recognition of his service, in which he achieved the best ratings of his class, and the "Service on Board Great Cross", fulfilling more than 15 years embarked on Navy Surface Units and Submarines.
On Jun 19st, 2009, the Supreme Government granted him the rank of Rear Admiral.
As from 26 Jun 2009, he took over as Commander in Chief of Naval Zone Second.
On December 18th, he took over as Chief of the Naval Mission to Chile in Washington; Naval and Defense Attaché to the Chilean Embassy in the USA; and Chief of the Chilean Delegation to the Inter American Defense Board.
Rear Admiral FAGANDINI is married to the former Enriqueta ELORRIETA and they have three children: Piero Andrés, Naval Officer, Soffía and Paula.