Marco Amigo Jiménez
Jueves 7 de octubre de 2010
Rear Admiral MC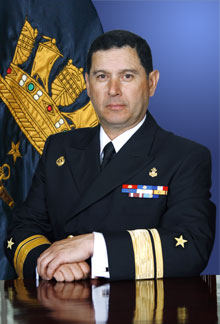 1958
Rear Admiral MC Marco Amigo Jimenez was born in Viña del Mar, on July 4, 1958, Chile. In 1976 he joined the Navy as a cadet in the "Arturo Prat" Naval Academy graduating as Marine Corps Ensign on 1 January, 1979. He is specialized as Staff Office and Marine Corps. He owns the professional degree of Weapons Engineer with a major in Amphibian Systems and Masters degree in Naval and Maritime Sciences with a major in Strategy. In 1997 he obtained his degree in Managment and Finances, in 2002 he obtained a diploma in Peace Operations. He graduated from the National Academy of Political and Strategic Studies.
Amongst his highlights, his first operational command was with the rank of Lieutenant, as Official of the 155/38 mm cannons battery, from the MC Detachment No. 1 "LYNCH"; was Rifle Section Commander at MC Detachment No. 2, "MILLER", and as First Lieutenant was Rifle Company Commander at MC Detachment No. 4 "COCHRANE". He also served as Studies Director and Executive Officer of the Marine Corps School "Jaime Charles", Chief of Physical Education Department and Education department of the "Arturo Prat" Naval Academy. He also was Executive Officer in the MC Detachment Nº3 "ALDEA"; during that period, he served as Military Observer in the conflict between Ecuador - Peru, later serving in the Directorate of Engineering and Naval Systems of the Navy.
In 2002, he returned to the first detachment as a Second Lieutenant and with the rank of MC Commander, he took over as Commander of MC Detachment No. 1 "LYNCH."
With the rank of Captain, he served as Liaison Officer to the U.S. Southern Command, later he assumed as Command of MC Detachment No. 2 "MILLER" and the Amphibious Assault Force of the Chilean Navy. In the Commandant General of the Marine Corps he was Head of the A-3 Operations and Training Department, Head of A-5 Plans and Development Department and Chief of the MC Flag Staff.
On November 30th, 2009, he took over Commandant General of the Marine Corps.
On January 1th , 2010, the Supreme Government promoted him to rank of Rear Admiral MC.
He is married to the former Pamela Sáez de Amigo and they have 3 children.