Kenneth Pugh Olavarría
Vice Admiral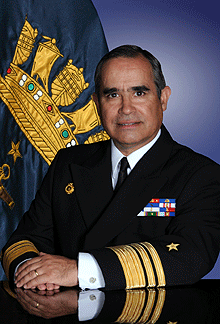 1959
Rear Admiral Pugh was born in the Naval Hospital in Valparaíso, Chile, on 22nd October 1959. After studying at the Mackay School in Viña del Mar, he entered the Naval Academy "Arturo Prat" and was commissioned and Ensign on 1st January 1979.
He is a Staff Officer and Electronic Engineer. He holds the professional degree of Naval Weapons Engineer with a major in Electronics and the academic degrees of Master in Naval and Maritime Sciences with a major in Strategy and a Diploma in Finance from the Catholic University in Valparaiso, a Diploma in Management of Health Centers from the Andres Bello University.
For his more than 13 years of seagoing appointments, he has served in DLH Almirante "Latorre" and DLH "Cochrane", PFG "Condell", TS "Esmeralda" and LM "Chipana". He was Commanding Officer LM "Papudo" in 1997, PFG "Ministro Zenteno" in 2002 and the Flag Ship, DLH "Blanco Encalada" in 2003, Naval Attaché to the Chilean Embassy in Canada from 2004 to 2005, Chief of Staff of the Fourth Naval Zone from 2006 to 2007 and Director of the Naval Hospital "Almirante Nef" in 2008.
Amongst his shore duties, we can highlight his performance as Head of the "Olimpo" Project Program, Chief of the Analysis Branch at the Navy Directorate of Weapons; Head of ITO in Israel; Deputy Chief of the Navy Tactical Training Center and Group Head of the Introduction to the SALINO System.
On 15ht December 2008 he took over as Director Social Welfare of the Navy.
On 30th December 2008 he was promoted to Commodore.
On Jun 19st, 2009, the Supreme Government granted him the rank of Rear Admiral.
On 22ht Jun 2009 he took over as Commander in Chief of the Fourth Naval Zone.
He is married to the former Maria Victoria VALDOVINOS and they have four children: Kenneth, Duncan, Stephen and Maria Victoria.
He is a member of the Naval and Maritime History Academy and selected Director for 2009.