Jorge Ibarra Rodríguez
Vice Admiral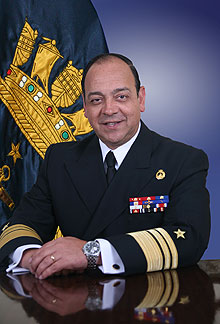 1955
Vice Admiral Ibarra was born in Santiago on 28th November 1955. He studied at the San Pedro Nolasco School in Santiago, entering the "Arturo Prat" Naval Academy in 1972. He was commissioned an Ensign on 1st January 1978.
He is majored in Navigation, a Staff Officer, Weapons Engineer with a major in Navigation and holds a Bachelor's degree in Naval and Maritime Sciences. He is a graduate from the Naval War College.
Throughout his naval career for more than 13 years he has been embarked on board different naval units, including TS "Esmeralda", Patrol Ship "Lautaro" and "Odger", DLHs "Prat" and "Latorre", PFG "Condell" and "Lynch". In addition to it, he has performed as Commanding officer of WPC "Castor", AGS "Yelcho", AO "Montt" and PFG "Condell" and TS "Esmeralda".
Amongst his shore duties, he has performed as Operations Officer of the Beagle Naval District, Head of the Instruction and Deputy Director of the Navy School of Operations, HQ Second Naval Zone Staff, Navy Secretariat General, Aide to the Commander in Chief of the Navy, Naval and Defense Attaché to the Chilean Embassy in Peru, Director of the Hydrographic and Oceanographic Service and Director, Human Resources of the Navy.
He has been Representative of the Chilean Navy and country as: Chairman National Oceanographic Committee; Member of the National Section of the Standing Commission in the South Pacific, Directorate of Environment of the Foreign Office; Vice Chairman of the Fishing Research Council, Economy Ministry; Chilean Representative on the International Hydrographic Organization and Intergovernmental Oceanographic Committee.
Amongst his decorations we can mention the "Star to the Naval Merit", "Service on Board Great Cross" decoration, "Mission Accomplished" Medal, Minerva Medal, "Command in Chief Service Medal" and "Naval Merit Peruvian Cross" in the degree of Commander and decoration "Naval Cross for Outstanding Services" in the rank of "Naval Cross" awarded by the Argentine Navy.
As from 15th December 2008 he took over as Commander in Chief of the Fourth Naval Zone and on 1st January 2009 he was promoted to Rear Admiral.
As from 25th Jun 2009 he took over as Secretary General of the Navy and in December 3rd 2010 que took over as Director General of Personnel.
On March 3rd he was promoted to Vice Admiral.
Vice Admiral Ibarra is married to the former Joyce Orchard and they have three children: Jorge, Javier, and Jimena.