Eduardo Junge Pumpin
Vice Admiral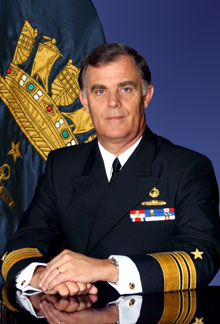 1954
Rear Admiral Junge was born in Valparaíso, Chile on 28 July 1954. After studying at the Deutsche Schule in Concepcion, he entered the Naval Academy "Arturo Prat" and was commissioned an Ensign on 1 January 1976.
He is a specialist in Staff and Submarines. He holds the professional degree of Weapons Engineer with a major in Submarines and he is a graduate in Naval and Maritime Sciences with a major in Submarines and a Master in Naval and Maritime Sciences, with a major in Naval Operations.
Throughout the years he has served on board, he has been commissioned to CL "LATORRE", ATF "ALDEA", AO "ARAUCANO" and as specialist in the submarines O'BRIEN, SIMPSON, HYATT and THOMPSON. He was Commanding Officer to ATF "LEUCOTON" in 1993 and Submarine O'BRIEN in 1996 and 1997.
Among his shore duties, we can highlight his performance as Instructor, Submarine School; Chief of Operations, Submarine Force; Instructor officer at Naval Tactic Training Center and Logistic Auxiliary Professor, Naval War College; Chief of the Planning Department, Directorate General of Navy Service; Deputy Director, Directorate of Naval Systems Engineering and Director "Arturo Prat" Naval Academy in 2002 and 2004.
As of 21 December 2005 he took over as Commander in Chief, Submarine Force.
As from 30 December 2005 he was conferred the rank of Commodore.
On January 1st, 2007, the Supreme Government granted him the rank of Rear-Admiral.
On 10 December 2007, he assumes as Commander in Chief of Naval Zone Second.
On 9 Jun 2009, he assumes as General Director of Naval Logistics.
On Jun 19st, 2009, the Supreme Government granted him the rank of Vice Admiral.
He is married to the former Karin Storaker and they have three daughters.