Luis Torres Vásquez
Rear Admiral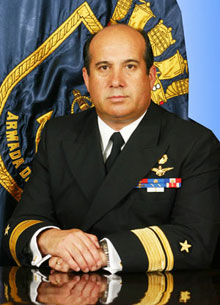 1955
Rear Admiral Torres was born in Valparaíso on 23rd June 1955. He entered the "Arturo Prat" Naval Academy in 1971 and was commissioned an Ensign on 1st January 1976.
He is a Naval Aviation Officer and holds the professional degree of Weapons Engineer with a major in Naval Aviation and he is Staff Officer.
Throughout his more than 14 years of seagoing appointments, he has served in Patrol Craft WPC "FUENTEALBA" (Executive Officer), Torpedo boat LSG "GUACOLDA", Antarctic Ship "PILOTO PARDO", Submarine Tender LM "ANGAMOS" (Executive Officer), LST "VALDIVIA" (Executive Officer) and Advisor, Fleet Staff.
He was Commanding Officer of Barge LSM "OROMPELLO" in 1993, Transport Ship TS "AQUILES" in 1998, Barge LSM Valdivia in 2001 and Amphibious Command and Naval Shipping in 2004 and 2005.
His air-sea career has been mainly conducted on the Helicopter Squadrons and Detachments embarked on the Fleet, while he was Commanding Officer of the Bell UH57B aircraft, Alouette III and Cougar. In 1999 and 2000 he was Commanding Officer of Helicopter Squadron HA-1.
Amongst his shore duties, we can highlight his performance at the Third Naval Zone Staff in 1994 and Commander of the Beagle Naval District and Port Authority in Puerto Williams in 2002 and 2003.
On 26th December 2005, he took over as Director, Navy Social Welfare.
On 30th December 2005, he was endowed with the Commodore rank.
On 1st January 2007 the Supreme Government promoted him to Rear Admiral.
On 16th December 2008, he took over as Commander in Chief of Naval Zone First.
He is married to the former María Soledad Henriquez and they have two children: Alfonso and Soledad.