Luis Felipe Huidobro Medel
Rear Admiral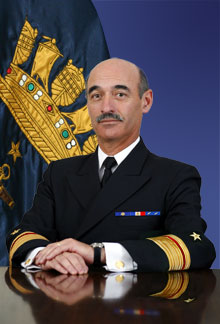 1955
Rear Admiral (Health) Luis Felipe Huidobro was born in Valparaíso on 30th January 1955. His elementary and higher education took place in different establishments, amongst them the "Arturo Prat" Naval Academy from 1970 through 1972, graduating from Liceo Nº 2 in Recreo, Viña del Mar.
He studied Medicine at the University of Chile, graduating with the degree of Surgeon on 4th January 1980. On 2nd June 1980 he entered the Naval Academy with the rank of Lieutenant (Health).
In April 1983 he was posted to Santiago, where he took up his major scholarship at the University of Chile Clinical Hospital, and majored in Internal Medicine in April 1986. He also studied Health Programming and Appraisal and Hospital Management.
Amongst his seagoing appointments, he was Surgeon in charge of CLs "Prat", "O'Higgins" and "Latorre" from 1980 to 1982 and Fleet Surgeon in 1993.
His shore duties are as follows: main physician of Internal Medicine at the "Almirante Nef" Naval Hospital, Head of the Polyclinic Western Naval Area; Head of the Intensive Care Unit; Head of the General Medical Clinic in Villa Alemana; Director Naval Hospital "Almirante Adriazola" in Talcahuano, Deputy Director of Health.
He is married to the former Maria Rosa Salazar and they have two children, María Gabriela y Juan Felipe, and two grandoughter, Santiago and Beatriz.