Vice Admiral Kurt Hartung Sabugo
Director of Naval Services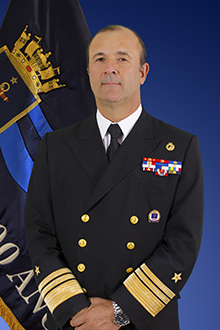 Vice Admiral Hartung was born in Valparaíso on April 9, 1960. He graduated from the Naval Academy as midshipman on January 1, 1981.
As junior officer, he served aboard the landing ship "Elicura"; the frigate "Baquedano" and the destroyers "Williams" and "Riveros".
In 1992, he successfully completed the Principal Warfare Officer (PWO) course in Great Britain.
He has completed three tours as Commanding Officer, aboard the auxiliary fleet tug "Leucotón" and the frigates "Almirante Condell" and "Almirante Williams".
He holds a Bachelor in Science of Engineering degree with a major in Electronics and a Master of Science in Maritime Affairs from the Chilean Naval War College with a specialization in strategy from the "Andres Bello" University. He also holds a Master of Business in Administration in healthcare management from the European University in Madrid.
In 2001, he successfully graduated from the Naval Command College at the Naval War College in Newport, Rhode Island. Later, in 2003 he completed a diploma in planning and administration of defense resources at the National Defense University in Washington, DC.
On January 1st, 2012, the Chilean government promoted him to the rank of rear admiral. During his years as a two-star admiral, he served as Commanding Officer of the Third Naval Region and as Director of Naval Finances.
On January 1st, 2017, he was promoted to the rank of vice admiral and assumed as Director of Naval Services.
Vice Admiral Hartung is married to Mrs. Andrea Valdivia and they have five children.