Vice Admiral Arturo Undurraga Diaz
General Director of Personnel of the Navy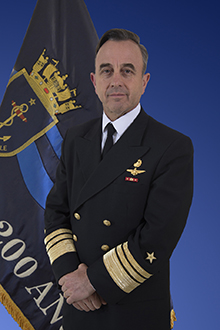 A native of Valparaíso, Vice Adminarl Undurraga was born on September 15th , 1961. He studied at Saint Dominic's School, and joined the Naval Academy in 1976, graduating as a midshipman on January 1st , 1981.
He earned his wings as a naval flight officer in 1987 and reported to the VP-1 squadron. He also served as flight instructor at the Naval Aviation Flight School. where he completed,
He holds a Master of Science in Maritime Affairs from the Chilean Naval War College and became professor in Naval Operations in 1997.
He served more than 13 years of service aboard in different units. He spent four years as commanding officer of several ships: Patrol Boat "Contramaestre Micalvi" in 2000; Missile boat "Angamos" in 2004; Southern Missile Boat Flotilla in 2005 and the icebreaker "Oscar Viel" in 2008.
As senior officer, he served as naval attaché to the Embassy of Chile in Canada, director of the Naval Academy and Director of Human Resources of the Navy.
On January 1st, 2012, he was promoted to the rank of rear admiral by the Chilean government and became the Commanding Officer of Naval Aviation.
In 2015, he assumed as Commander of First Naval Zone.
On January 1st 2017, the President promoted him to Vice Admiral and became the Chief of Naval Operations. On June 13th, 2017 he became the Director of Naval Personnel.