Vice Admiral Guillermo Luttges Mathieu
General Director of Merchant Marine and Maritime Territory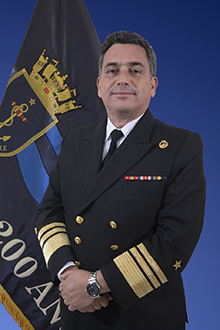 Vice Admiral Guillermo Lüttges was born in Valparaiso on January 5, 1963. After completing his studies at Colegio Ruben Castro, he entered the Arturo Prat Naval Academy, graduating as midshipman in January 1983.
He is a specialist in naval electronic engineering. He holds the Chilean professional titles of officer of chief of staff from the Naval War College and of military professor. He has a master's degree in naval and maritime sciences. In addition, he has a degree from the APCSS Center in Hawaii and was a professor of strategy at the Navy of Colombia for three months.
During his more than 14 years of service on board, he was second commander of the torpedo ship Tegualda, the missile boat Casma, the transport ship Aquiles, and the training ship Esmeralda. He was commander of the frigate Lynch, of the missile boats Chipana and Serrano, of the Missile Command, and of the training ship Esmeralda in 2012.
His destinations on land include his work as head of the Planning Department of the Directorate General of Maritime Territory and Merchant Marine, naval and military attaché to the Embassy of Chile in France, electronics consultant to the Chilean Naval Mission in England, and chairman of chief of staff of the Naval Operations Command. In December 2013, he became director of the Naval Polytechnic Academy.
On November 28, 2014, he became Commander in Chief of the Fifth Naval Zone.
On January 1, 2015, he was promoted to the rank of rear admiral by the Chilean government.
On December 4, 2015, he was promoted to assistant chairman of chief of staff of the Navy.
On June 13, 2017 he became General Director of Merchant Marine and Maritime Territory