Rear Admiral Rodrigo Vega Contreras
General Director of Finance of the Navy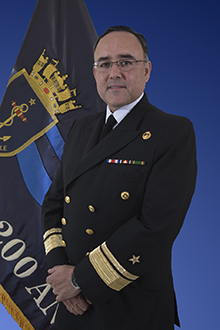 Rear Admiral Rodrigo Vega was born in Santiago on 16 April 1964. He entered the Arturo Prat Naval Academy in 1980 and was commissioned as a Midshipman in January 1985.
He holds a professional degree in Naval Electronic Engineering from the Naval Polytechnic Academy and a Master's degree in Maritime and Naval Sciences. Additionally, he is a graduate of the Staff Course at the Chilean Naval War College, and a graduate of the Command and Staff Course at the Argentine Naval War College.
His more than 13 years of seagoing experience include service on board training ship Esmeralda, ATF-63 Aldea, DDG-19 Almirante Williams, DD-972 USS Oldendorf, DLG-14 Almirante Latorre, PFG-06 Condell, and DLH-15 Blanco Encalada. He commanded the ATF Leucotón, fast missile boat Casma, and FF Almirante Lynch.
In 2014, he took part in Exercise RIMPAC-14, acting as MOC Director within the Combined Force Maritime Component Commander (CFMCC) Staff, composed mainly of Royal Canadian Navy and Chilean Navy representatives.
Rear Admiral Vega's shore assignments include tours at the Navy Weapons Directorate; the Third Naval Zone Headquarters; the Directorate of Programs, Research and Development of the Navy; the Chilean Naval Mission in London (as Deputy Head and later Head of the Technical Inspection Office for the Type-23 Procurement Project "Puente III"); the Naval Staff; and at the Directorate General of Logistics of the Navy (as Deputy Director).
On 18 December 2015, he was appointed Director of Navy Ships Refits and Repair, and a few days later, on 30 December 2015, he was promoted to Commodore.
On 7 December 2016, he assumed his present position as Director General of Finance of the Navy.
On 1 January 2017, he was promoted to the rank of Rear Admiral.