Rear Admiral Patricio Carrasco Hellwig
Director of the Hydrography and Oceanography Service of the Navy (SHOA)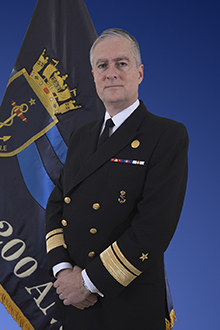 Rear Admiral Carrasco was born on October 11th, 1962 in Viña del Mar. After attending several schools in Viña del Mar, Santiago and the United States, he was admitted into the Naval School, from which he graduated as Midshipman on December 18th, 1982.
He is a specialist in Navigation and Hydrography and holds a professional diploma as Hydrography Engineer from the School of Hydrography of the Hydrography Institute of Spain; as Engineer in Arms, majoring in Navigation and Hydrography, Bachelor of Arts in Naval and Maritime Sciences from the Naval Polytechnic Academy. Graduate from the Informations Course from the Naval War College; course on Coastal Surveys with Multibeam Echo Sounder Systems at the University of New Brunswick, Canada, and holds a teaching diploma as Professor of Hydrography.
In 1984 he transferred to the AP "Piloto Pardo"; in 1985 aboard the naval training ship "Esmeralda" as Midshipmen Instructor; in 1989 he takes the course in Hydrography at the Navy Hydrography Institute where the following year heads the Hydrographical Surveys Department. Between 1992 and 1997 he leads the Hydrographic Group undertaking several commissions throughout the country, including the Southern Ice Fields and Antarctica. In 1998 he is transferred to the Naval Academy as Instructor and Head of the First Year cadets. In 1999 he was transferred to the Hydrography and Oceanography Service of the Navy where he lead the departments of Hydrography; R&D, and Technical Area. In 2007 he is named Deputy Director of the Service, position he holds until the end of 2009, when he is assigned to the Polytechnical Academy as Academic Deputy Director.
On March 4th, 2010 he assumed as Director of the Hydrography and Oceanography Service of the Navy (SHOA), position he holds until today.
At national level, Real Admiral Carrasco presides the National Oceanographic Committee and is Head of the SHOA's Training Centre. Internationally, he is Chile's representative to the International Hydrogapic Organization (IHO), the Executive Committee of the General Bathymetric Chart of the Oceans (GEBCO) y and the Intergovernmental Oceanographic Commission, among others. Also, between 2011 and 2015 he is Vicepresident of the Intergovernmental Coordination Group for the Pacific Tsunami Warning and Mitigation System (ICG/PTWS).
On January 1 of 2014 the president promoted him to Rear Admiral.